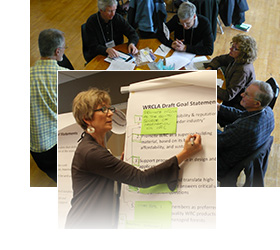 Cortex offers a range of services to support clients in defining—and achieving—their organizational or project goals:
structuring and managing complex processes and projects to meet specified objectives
designing and facilitating meetings, events, and processes to achieve desired results
assessing needs and planning interventions to develop an organization or improve its performance
designing and producing information that clients need internally or want to communicate to others.
We have provided project management and communications support to several of British Columbia's key multi-stakeholder processes (hotlink to project filter). We have designed and managed robust processes and structures for evaluating and advising on project selection and/or investment strategies (hotlink to project filter). And we have facilitated dialogue sessions, strategic and business planning workshops, and focus groups (hotlink to filter). Our clients include federal, provincial, and municipal governments; First Nations; businesses; associations; non-profit organizations; and communities.
Our methods are outcome-driven, respectful, and inclusive.